Blackhawk 4×4 have a range of Adjustable upper & lower control arms designed specifically for the JK Jeep. The new JK Wrangler Short Arms represent the latest innovations in direct OE replacement suspension components to create the most advanced combination of off road performance and on-road handling characteristics.
The MAXX-C bushings are a Grease Free synthetic elastomer bushing that runs a dual duro. Whiteline has incorporated PTFE fibres into the MAXX-C bushings, removing the need for lubrication and maintenance. The bushing is designed for extreme, heavy duty off-road performance. It runs a dual duro with the outer layer bushing being softer, allowing for more vibration absorption and articulation, while the inner layer bushing is harder, and ensuring high performance and durability. Between the two bushing layers is a proprietary reinforcing sleeve to evenly distribute the load travelling through the bushing when in operation, minimizing gaping and preventing debris from entering the bush. This results in a longer life bush.
Bushing designed specifically for extreme, heavy-duty off-road performance.
Dual Durometer, free pivoting bushing features a proprietary reinforcement sleeve to evenly distribute the load, minimizing gaping and prevents debris from entering the bushing resulting in bushing longevity
Vibration Dampening resulting in the best ride quality, and reducing NVH.
Minimum wear of maintenance free bushing resulting in longer life.
Direct OE replacement, no trimming/cutting of existing hardware required
Adjustable for improved fitment and alignment, specific to the vehicle requirements for best ride and handling characteristics.
Drawn Over Mandrel (DOM) 1020 tube for increased strength.
Adjustable threaded ends – Forged from 1020 steel for increased strength.
Suits vehicles with 2″ to 4″ of Lift (allowing for 6-7 degrees caster.)
Black 3 layer Gloss Powdercoat for superior coverage and proof against the elements.
All arms are adjustable with the Front Upper Arm being on-car adjustable.
Correctly positions the axle in the wheel well.
Supplied ready for use with Grease Free Synthetic Elastomer Bushings with new MAXX-C Dual Durometer Technology for superior flexibility.
*Arms sold individually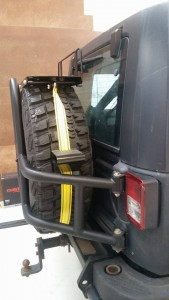 Great for your chainsaw and fuel, bolt on a space case, some firewood, flat pack jerry cans, step to climb and stand to access the roof rack, and fits 14″ falcon style wheel tyre combo for your van or camper spare, right up to wheels
Read More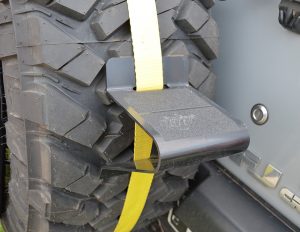 Step available to be purchased separately to work in conjunction with the rear wheel shelf (Ratchet strap supplied with Rear wheel shelf)
Camp Fire cooking, evolved, these food grade stainless steel height adjustable, heat adjustable frame and hooks allow you to operate around the fire without bending over, removing trip hazard, ash in your food, and smoke in your eyes.
Blackhawk 4×4 have a range of Adjustable upper & lower control arms designed specifically for the JK Jeep. The new JK Wrangler Short Arms represent the latest innovations in direct OE replacement suspension components to create the mos
Read More