RG Dmax (BT50)
DUE FOR RELEASE IN 2023!
Introducing the Revolutionary Blackhawk4x4 Adjustable Upper Control Arms
Blackhawk4x4 has a long history of pioneering wheel alignment correction for lifted 4x4s. We've stood the test of time and continue to lead the way, with our relentless focus on design and manufacturing of industry-leading, fixed position Upper Control Arms (UCA's).
But we don't stop there. As trailblazers in the field, we strive to respond to market needs and trends. Recognizing the growing need for adjustable UCAs that allow users the freedom to customise settings to their specific needs, we embarked on a new journey. We are excited to introduce the Blackhawk4x4 ULTIMATE UCA's - the first ever street legal, on-car adjustable and forged Upper Control Arms.
Our latest offering results from years of tireless effort by our expert team of mechanical engineers, who have worked closely with field experts such as metallurgists, VASS Engineers, and VIC Roads signatories. Utilising state-of-the-art Computer-Aided Engineering (CAD) and Finite Element Analysis (FEA) and validating our designs through rigorous physical testing in Melbourne-based NATA testing facilities, we've forged a product that combines the best of technology and materials for the ULTIMATE solution.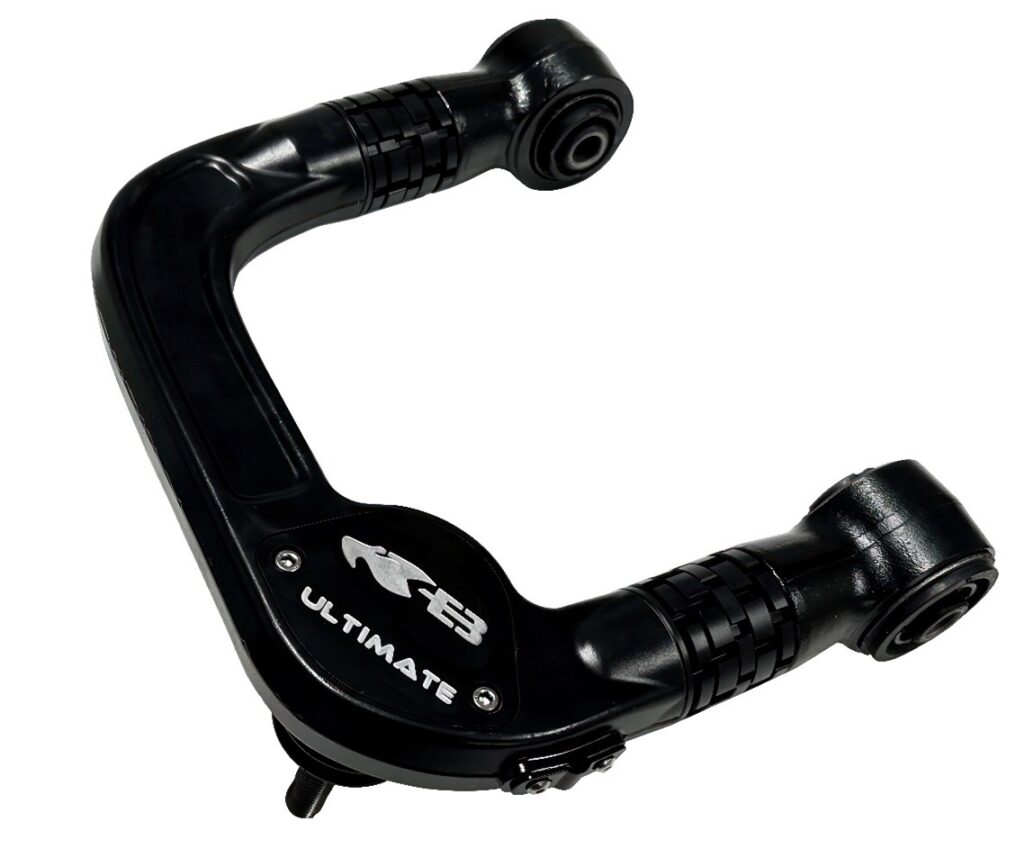 Blackhawk4x4 Adjustable UCA's - Unleashing the Power of Precision Control
Our range of Adjustable UCA's pack an array of superior features that make them an invaluable addition to any 4x4. They are designed with:
A main frame forged from 6083 aluminium for durability.
Forged 4140 bush apertures that ensure a solid and firm fit.
Billet machined 4140 on-vehicle adjusters that allow on-the-go customisation.
Our unique, patent-pending, dual locking proprietary nut system for added security.
Rubber bushings of OE spec that offer excellent vibration isolation.
The robust and serviceable ROADSAFE high articulation, greaseable ball joint that provides a whopping 80 degrees of articulation.
NATA certified ADR compliance for assurance of safety and reliability.
FEA tested for ADR compliance, further reaffirming our commitment to quality and safety.
The Blackhawk4x4 ULTIMATE UCA's provide unmatched adjustability on-car, giving OE specifications and even better for lifts from 30mm to 75mm - guaranteed, with even higher capabilities in many applications. The ball joint in the ULTIMATE UCA's, a new design that offers 80 degrees of articulation, equals the strength of an OEM ball joint and is manufactured from high-strength 4140 chromium molybdenum (chromoly) steel.
We also provide detailed fitting instructions online, allowing users to make appropriate adjustments based on their vehicle lift and desired alignment outcome.
The Blackhawk4x4 ULTIMATE UCA's are indeed a product by 4wders for 4wders who accept nothing less than the best. It's time to revolutionise your 4x4 experience. Let our Adjustable UCA's redefine the standards of control and performance for your vehicle. Embrace the Blackhawk4x4 difference today.
:
Each Pair of ULTIMATE UCAs include the following equipment:
Bush Aligning Tool
Pair of Adjuster Spanners
Fitting Instructions can be found here Fitting Instructions